Come to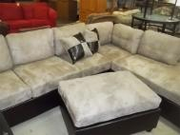 Recycled Furniture to purchase quality used furniture at great prices! We're a family-owned and operated business offering an extensive inventory of all types of quality products, from appliances and electronics to household furniture and used office furniture. We sell and purchase every make and model of furniture, and we can also provide cleaning and minor repairs. With our quality products, rest assured that you'll get the best value for every purchase.
Call Recycled Furniture at (775) 384-8029 today.
At Recycled Furniture, we only offer clean and quality used furniture. We guarantee that you will find the furniture that you need in our massive inventory at a much cheaper price. Whether you are looking for used furniture for your living room or in need of used office furniture for your home, we've got you covered! Call us at (775) 384-8029 today. Recycled Furniture: Gently used not abused furniture.